The advantages of using a hopper feeding system
Any modern production line requires a high level of automation, it being necessary that all the parts of the line can operate more or less continuously with the minimum level of human interaction.
Putting it more simply, the Precise and accurate distribution of the parts and components on assembly lines is vital. 
The range of different functions that are involved on production lines is numerous. These include sorting, orientating, allocating, storage, positioning and inserting, and all have to be performed efficiently, safely and without damaging any of the components.
One of the systems used to reach this goal are devices called Bowl Feeders. These units provide the next machine in the line with correctly orientated components, such as screws. 
However, these bowl feeders need to be filled with the correct amount of parts so that the line can continue operations. This is where vibratory hopper feeders come into play.
Normally used for small components and parts, the hopper provides a steady stream of parts to the bowl feeder, the drop to the bowl from the hopper being kept to a minimum to reduce and bouncing or damage. A sensor is used to monitor the level of parts in the bowl feeder, and when this falls too low, the hopper vibrates and shakes components into the bowl, stopping when the set maximum level is reached. This on / off system ensures that there are always enough parts in the line without overloading any station.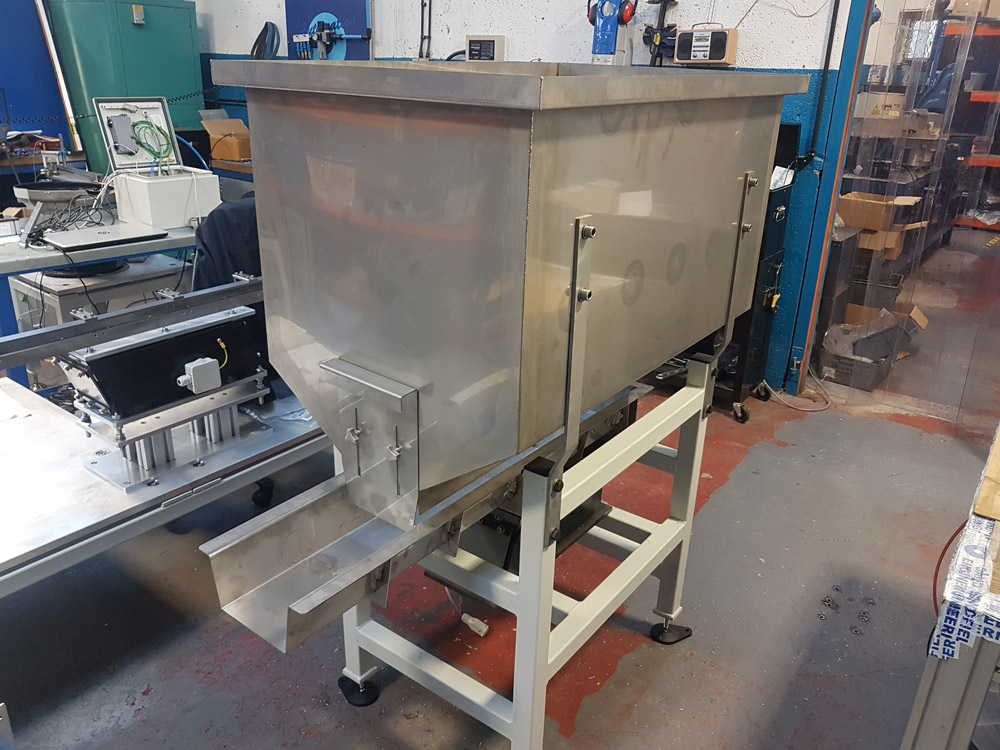 Automatic feeding system for assembly workstations or packaging stations
There are numerous types of hopper feeding systems, but all provide the same service in the line, that of ensuring that the next machine is supplied with the necessary parts.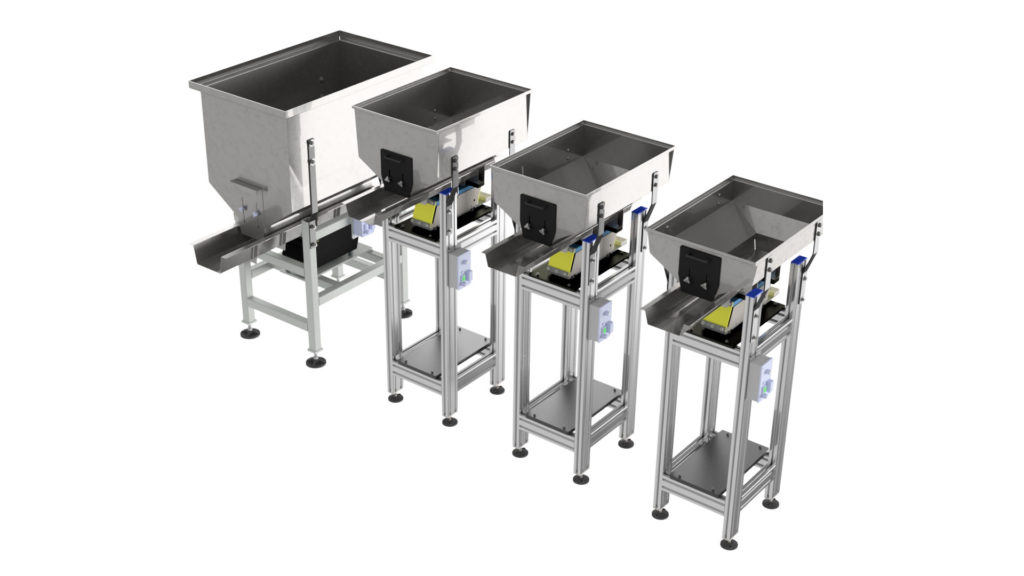 A simple vibratory hopper loaded at waist height or above.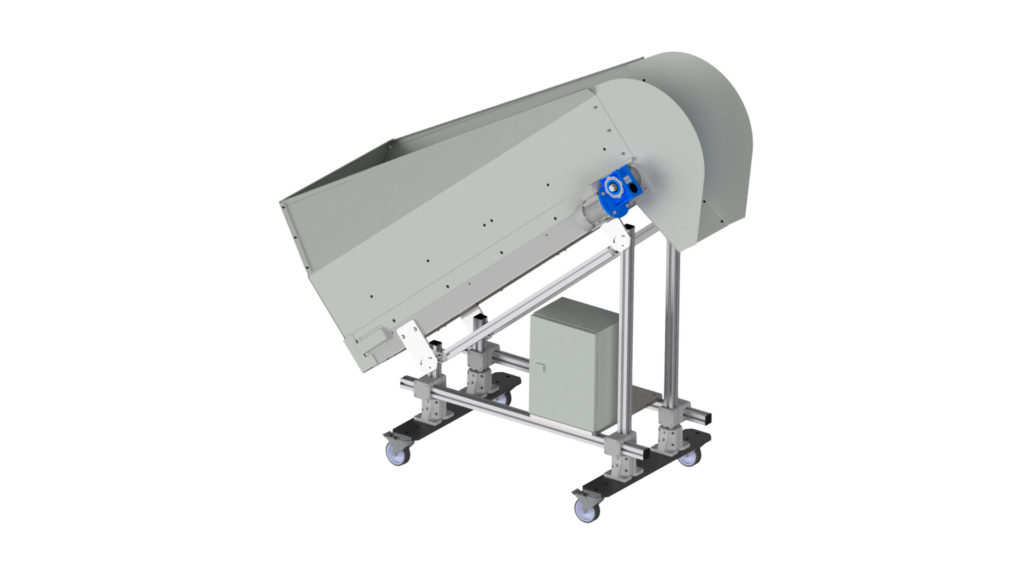 Loaded at ground level and incorporating a conveyor to lift the parts into the bowl or through to another process.
The hoppers are supplied on their own stands with a vibratory unit and controller.
The hoppers can also be supplied with low-level sensors and beacons to indicate low levels, all are supplied UKCA/CE Marked.
Filling and weighing applications
Feeders can also be used in the final stage of a line. An example of this is the filling of packages to a set weight of the product. The systems incorporated into a hopper feeding system allow a fast flow of product while, for instance, a bag or bag is first filled with screws. The flow slows first to a trickle and then stops as the container reaches its target weight.
Ability to Adjust Throughput Rate
This inbuilt ability is the core reason why such hopper feeding systems are invaluable. The alternative, that of using humans to monitor and load parts into a bowl feeder or other system like a conveyor belt is fraught with danger, humans simply not being as reliable as automated systems, whilst also having higher costs.
Where are Vibrator Hoppers used?
Vibratory hoppers are used by manufacturing companies in areas like cosmetics, the pharmaceutical industry, electronics, automotive, food, packaging and metalworking. 
Other business areas, like construction, steel and iron foundries, glass production, recycling, paper, and plastics, also use hoppers.
When specifying a parts feeder, many factors must be considered, such as the industry, material properties, application, product size, and bulk storage requirements.
Hoppers can be designed in a range of sizes to meet the customers' industry, the properties of the components, storage requirements, application, and parts' size. The required loading frequency and the size of the parts reservoir all being taken into account.
Sandfield Engineering also provide a range of clamps and holding systems, other automation products like robot grippers, linear rails and Toggle presses. We also offer general engineering services and have a track record of producing solutions for such companies as Jaguar Landrover, Volvo, JCB, Ford, Aston Martin, Kellogs and household names in retail and distribution including Marks & Spencers, Tescos, DHL, and DPD.
Talk to The Experts at Sandfield
Please do not hesitate to contact our team to discuss your Vibratory Bowl Feeder requirement. No matter how unique your part feeding challenge might appear to you now, with more than 20 years of experience, our team will have experienced something similar and can therefore quickly steer you in the right direction.