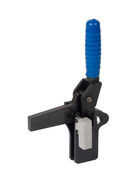 To ensure quality or operator safety it is may be necessary to know that the clamps in your process is definitely closed.
You may have gone to the expense and hassle of using a pneumatic clamp for that reason, we have come across instances where customers have gone to the trouble of fitting a proximity sensor themselves, which is fine, but should you have to?
Sandfield work closely with our customers we have overcome this small challenge by fitting proximity sensors to 100% our standard heavy duty toggle clamps. This is just one more way in which Sandfield Engineering are taking the hassle out of implementing the right clamp for your process. And don't forget that we also take the hassle out of identifying and buying the right clamp.
To help you select the very best clamp for your application take advantage of our sale or return offer. Purchase the clamps you think are most likely to perform the task, if on delivery you discover that they aren't suitable return them to us unused and we will refund you the full cost of those clamps, you only pay for the carriage.
For help specifying the ideal clamp for your process call Josh on 01299 823158 or email me at JGreatrix@www.sandfieldengineering.com.