A Toggle Clamp is a tool that is used to securely locate components or parts in position, typically, but not exclusively, as part of a production process.
They provide the operator with a means to quickly secure and release a component, as this is just what is needed in repetitive manufacturing processes like production lines, where the components need to be held securely and then removed quickly.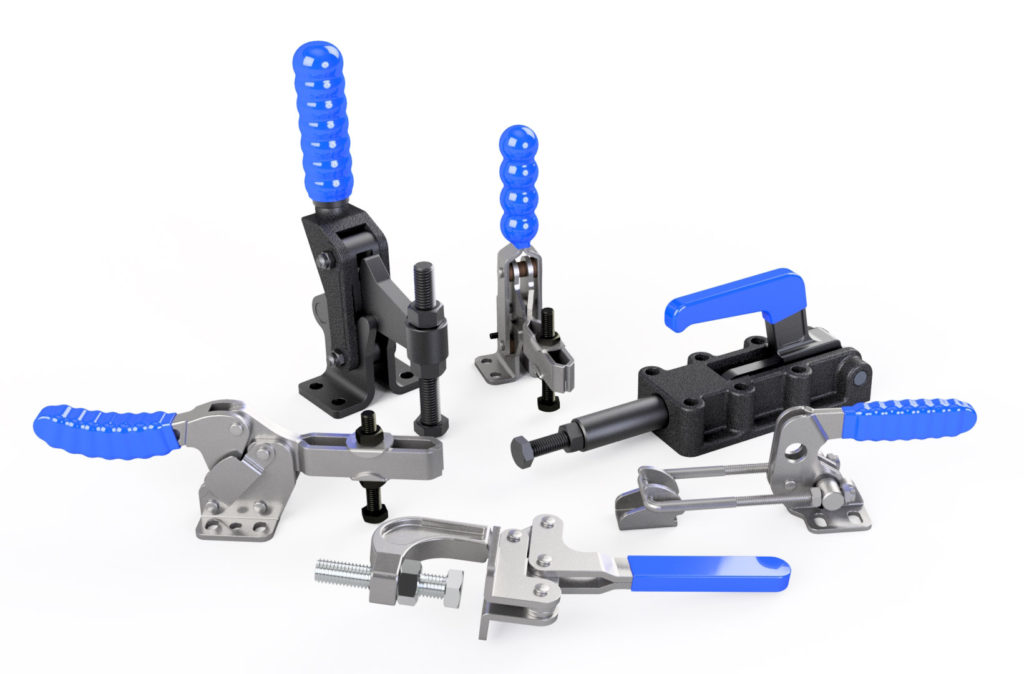 Shop our range of toggle clamps
Designed & made by engineers, for engineers
Why would you need a Toggle Clamp?
A Toggle Clamp is designed to hold a workpiece or component securely on a work surface. Toggle Clamps are typically permanently fixed to the work surface using a base plate mounting, either directly or using a template. Toggle Clamps have a fast-action mechanism, allowing them be to be engaged or released in one quick movement and a linkage system of pivot pins and levers to boost the applied force. Once engaged, the Toggle Clamp is essentially locked. This makes them the ideal tool for a carpenter, when they need to hold assemblies of components in place while gluing them together.
The clamping force level is adjustable, ensuring that the required level of grip is provided without any damage being done to the component.
Toggle Clamps are often specified in repetitive manufacturing or production processes for their speed and ease of use, as they provide an ergonomic method of positioning, fixing and locating components.
We are continuously amazed by the many innovative uses people find for our Toggle Clamps. And where one of our many standard clamps is not a solution, e.g. the customer needs a clamp mechanism for a specific task in their joinery business, or where an extremely high clamping force is required, we can create custom clamps that meet the specification.
Our Toggle Clamps serve customers in various environments and applications, including metalworking, automotive plants, food manufacture, trailers, engine testing and munitions.
If there is a common theme it is the challenge of finding a solid, whilst flexible, means of holding a component in position in a manufacturing process or application.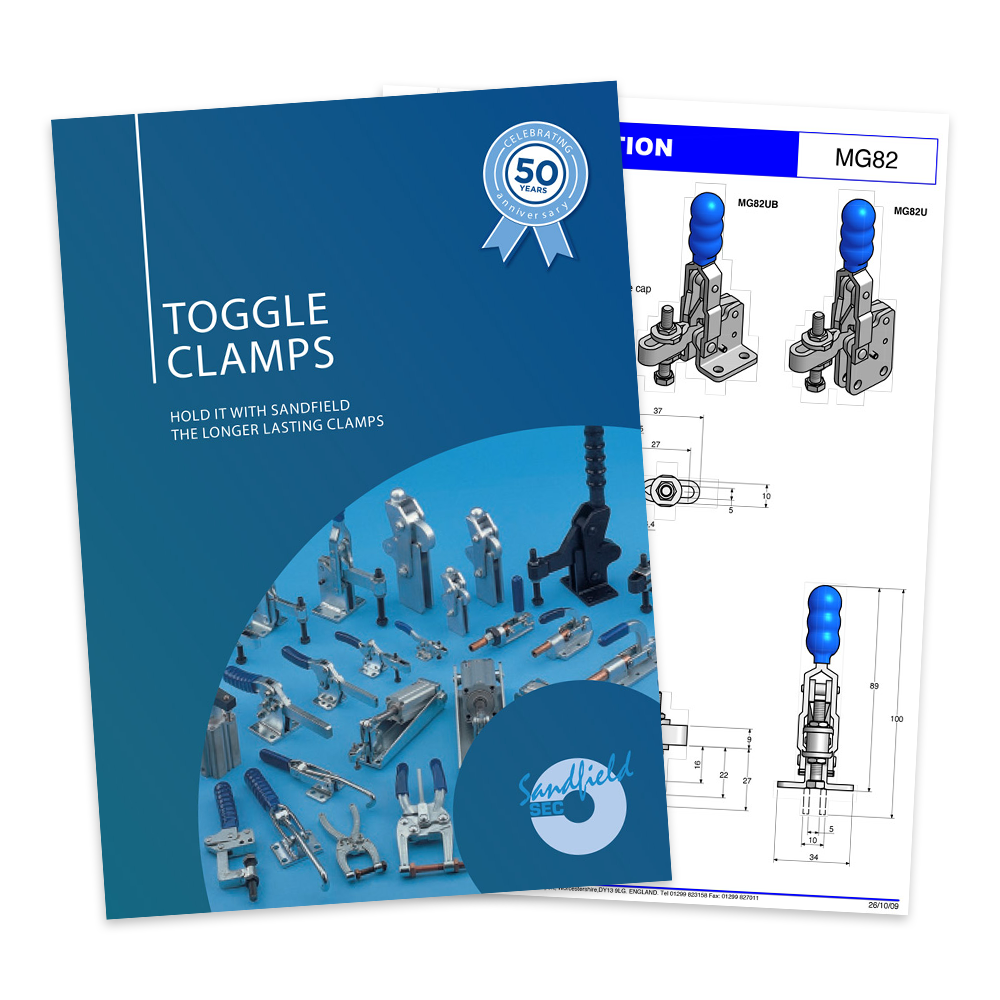 Toggle Clamp, Pneumatic Clamp, Linear Rails, Toggle Press, Toggle Latch and Gripper catalogues can be found here.
"It never fails to amaze us the many innovative uses people find for our Toggle Clamps."
What is the benefit of using a Toggle Clamp over other types of clamp?
The main advantage of this type of clamp is that it is quick and easy to use, whilst enabling the amount of force needed.
Strap clamps could be used, but these take longer to set up and often don't provide enough holding force.
A Quick Release Clamp
The real benefit of Toggle Clamps is that they improve efficiency, speeding up and increasing production output by increasing the speed that you can load and unload components.
Our Toggle Clamp Guarantee
Sandfield Engineering pride ourselves on the durability of our Toggle Clamps. One example, one of our first projects, was for the Mini Line at the Longbridge plant in the late 1950's. We provided 100's of clamps for the production lines and when the plant was decommissioned in 2000, after three million cycles, more than 70% of the original clamps were still in working order.
What are the different types of Toggle Clamps?
There are six main types of Toggle Clamp, the variants being commonly defined by their action.
The most common version has a vertical action. Here, a bar swings down and clamps vertically onto the components, the handle, in this closed status, being in a vertical or upright position. A variation on the vertical clamp is the Horizontal Toggle Clamp. These clamps also provide a holding force in a downward direction, but the handle is, in its closed setting, in a horizontal position. This variant allows the use of the clamp where more clearance above the clamp is needed, or where the operator's hand needs to be away from the clamp during operation.
Another common version has a plunger action. These are also known as 'push action' and 'push pull' toggle clamps. As these names suggest, they provide a push or pull action, applying the force in a direct, straight-line direction. The handle can be closed either in the forward or the rear position. This has the advantage that, when the clamp is mounted vertically, with the handle in the back position, it will stop components falling forwards, the handle being behind the component in the lock position.
The fourth most common variant is one that provides a hook action. These are most often used to pull components together. Two types are available, U-bolt and Single hook. This type is used to retain or hold lids onto items, or when using Injection Moulding tools that hinge. They can also be used for securing doors, and are ideal in any application where you need to pull two separate items or components together.
Yet another option has a cam action. To operate effectively, normal toggle clamps require the component thickness to be consistent. Although there are ways to adjust for any variation when using other clamps, the most straightforward solution is to use a Cam Action Toggle Clamp. The cam action allows for a component variation, from one to three millimeters depending on the model.
Perhaps the least common type offers a plier action. These clamps act in a squeezing motion to pull components together. They are hand-applied tools and are often used in fabrication processes, although they can also be found in the automotive industry. Plier Action Toggle Clamps are reasonably flexible; however, we offer an option where custom jaws that precisely match your components can be supplied.
Go directly to the models we supply:
Not sure which clamp to use?
No problem. We know there's a huge range of clamps, presses etc to choose from. If you answer a few quick questions about your project and clamp requirements, our interactive clamp selector tool will suggest the best options for you.
More Information on Specifying Which Type of Toggle Clamp You Need
The most important factor is to understand / know what type of action you need.
This depends upon whether it's a process where you're trying to hold or secure a component, or need to pull two components together.
The issue of space around the Toggle Clamp also needs to be considered, and questions like 'do you need an angle clamp?' or one that offers a vertical hold?, will need consideration.
The next thing to be taken into consideration is the material used in the clamp construction. Will it have to be stainless or will normal mild steel do. The choice here will be driven by the environment in which you will be using the clamp, and how much force is needed.
Standard or light action Toggle Clamps are usually made from pressed steel components with a Zinc plated finish.
Stainless Steel should be used in regulated industries where hygiene is important. The food and pharmaceuticals industries are two good examples. This is because it is one of the most hygienic industrial materials available.
For normal outdoor use we typically use 304 Stainless Steel which is made up of 18% Chromium and 8% Nickel. Where the clamp is to be used outside, for instance in Marine applications or other harsh environments, a certain amount of corrosion resistance is required. Stainless Steel is often used in those applications, 316 Stainless Steel offering the greater corrosion resistance that is needed.
What Sort of Application do you need these clamping devices for?

The final stage is driven by the application and what you trying to achieve, there being several options that must be considered.
For example, you will need to know
The size of the components that you need to clamp:
If there is any variation in the components:
What access you need around the components (you might need clearance for a welding gun or milling cutter or clearance for other reasons, such as safety)
Do you need the clamp to have a secondary lock? (this can be required if the toggle is going to be used in an application that involves a lot of vibration.
Large Stock – Fast Delivery
We stock clamps in every variation of style, material, action, dimensions, holding forces, finishes and power options, and can meet your specific requirements and deliver within a noticeably short timescale.
Custom-Made Clamping Systems
If the Clamp you need isn't available from our wide selection, we provide a Custom Toggle Clamp Design service to ensure you get exactly what you need.
What is a Heavy-Duty Toggle Clamp and what does heavy-duty mean?
Heavy Duty Toggle Clamps are more robust and tend to be used in areas where there's higher production rates, more weld debris, or where you need a longer life for the tool.
Basically, heavy-duty clamps should be specified if it's going to be used in:
a harsh environment,
where higher clamping or holding forces are needed
Maintaining Toggle Clamps effectively
In terms of maintaining a long-life cycle, we engineer our clamps to be as robust as they possibly can be, using hardened and ground brushes as well as bigger pins wherever we can.
Overall, it's more a question of making sure the components are kept clean if they're used in an environment where there's a lot of debris. In such circumstances, they should be lubricated regularly.
Well looked after Toggle Clamps should last a considerable length of time if they are used, as specified, correctly.
Can't find what you're looking for?
Our friendly team has more than sixty years of experience and are happy to help you, no matter how impossible or unique your current manufacturing challenge might appear. Get in touch today so we can point you in the right direction.