Sandfield designs and manufactures custom made Bowl Feeding solutions. We offer a complete solution from simply a tooled bowl or bowl and linear drive to a complete system that may require a hopper, conveyor, escapements and controls. In addition, Sandfield provides Bowl Feeder servicing and repurposing / re-lining service. This combined with onsite support provides our customers with the complete package.
We have more than 20 years of experience in designing, manufacturing, and servicing Bowl Feeders and offer customers reliable, robust Bowl Feeding Solutions. Each Vibratory Bowl Feeder is custom designed to meet your specific requirements depending on the size and shape of components, the required feed rate and running time. The systems are also designed to minimize downtime, thus optimising output.
Parts of a Bowl Feeding System
Select to find out more about each component in a bowl feeding system.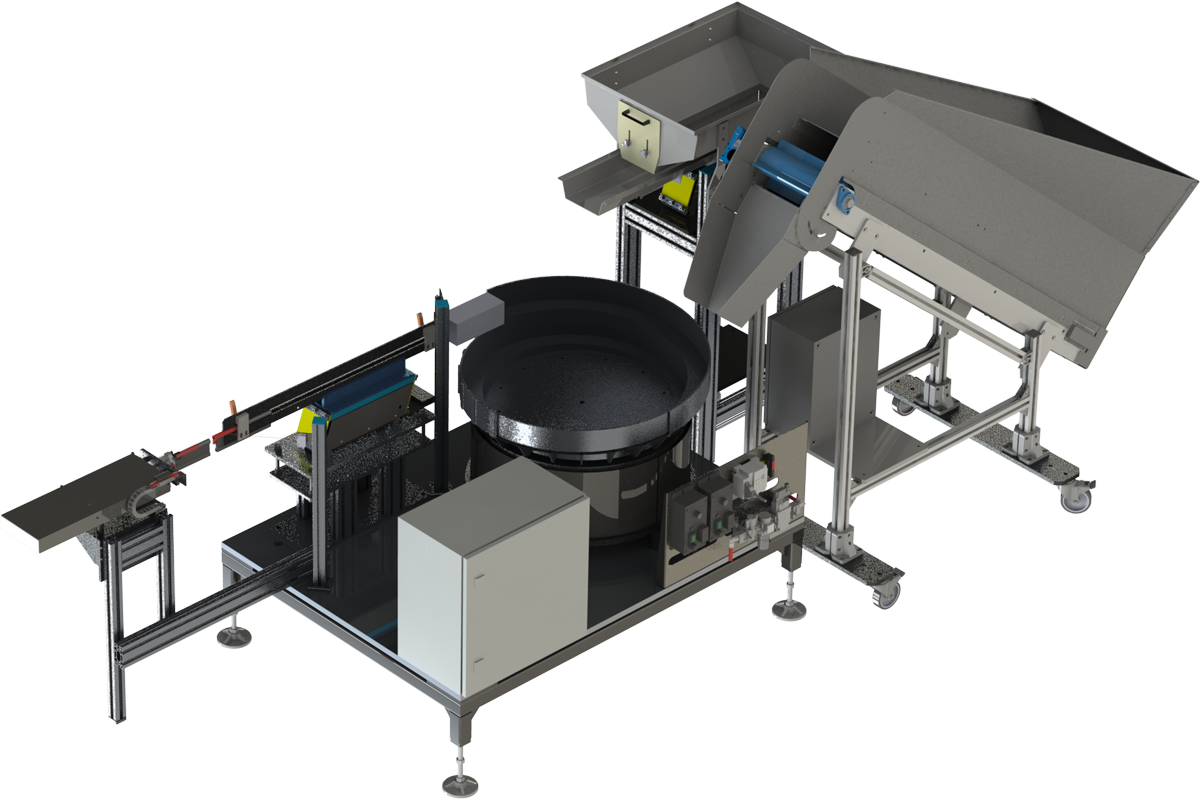 Why would you need a Vibratory Bowl Feeder?
The common theme is the challenge of finding a robust, reliable, and efficient part feeding solution as part of an automated manufacturing process or application. If your objective is to improve cost efficiency and quality, whilst driving up production, Vibratory Bowl Feeders are the most reliable method for ensuring a consistent component flow for production machinery.
Bowl Feeders speed up your production line
If you are running a production line where there is a need to orientate small components, so that they can be correctly fed into another part of the production process, then the chances are that you are using, or need a bowl feeder.
Factory Automation & Solutions
Bowl feeders will sort many, not all, different types of parts, the parts when gently shaken at the correct frequency, with specifically designed tooling can slowly be agitated so that all the parts become aligned in a prescribed direction.
Dependable High-Speed Process
The parts exit the bowl via a linear conveyor or chute or tube into a purpose-built escapement where the part can be picked and passed on to the next stage on the production line, be it for assembly or to a packaging machine.
Your Part Handling and Material Flow Problems Solved
For example, certain parts cannot be dealt with simply using bowl feeders. In such instances, twisted conveyor belts are also used to turn parts over as needed. This is the sort of material-handling problem we will solve for you.
All types of Bowl Feeders supplied
A specially shaped bowl, designed to orient the parts being processed into the specific orientation required, is at the centre of these units. Each bowl is mounted on a vibrating drive, which is controlled with a variable-speed and amplitude controller. The vibration created forces the parts to move up a circular, inclined track. The sorted parts are then fed onto a track or Linear Feeder, this being gravity fed in some instances.
How to select the right Vibratory Bowl Feeder for your application?
Bowls are sized according to component size, run rate and re-stocking requirements. Please contact us so we can advise on Specification, costs, and delivery times.
Linear Feeders – Connecting the parts of the production line
On a production line, the machines can be some distance apart, to allow for maintenance or the layout of the work floor. Linear feeders act as bridges between each stage, conveying the oriented components from the bowl feeders into an escapement, if necessary – multiple lines can be used. The length of the linear can vary but is typically 0.3-0.9 m, the linears create an amount of buffer storage. These tracks use drive units that incorporate a multi magnet design, are robust, compact and virtually maintenance-free.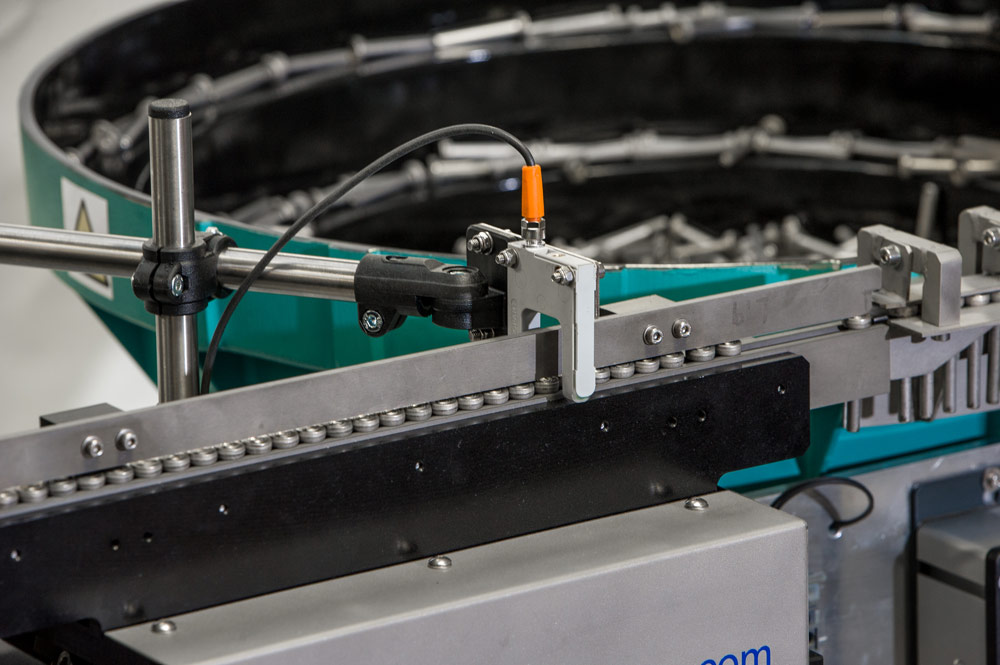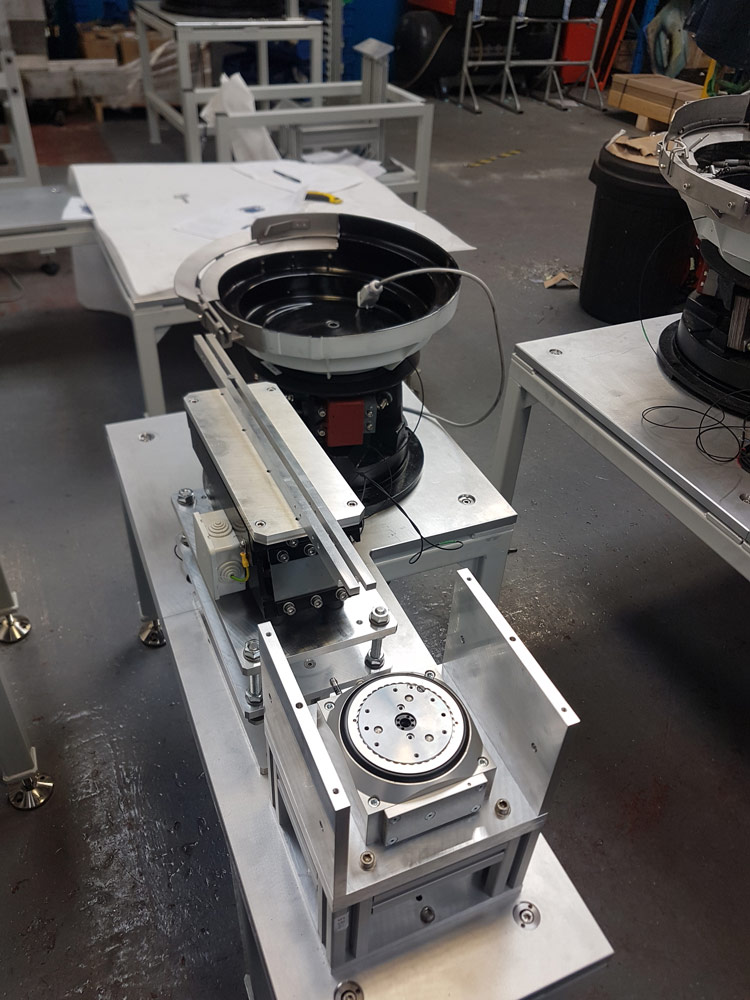 Part Escapements and Nests
Each linear track normally ends in some form of escapement device. These are the points on the line where some form of automated assembly equipment receives all the parts necessary for the next stage in the production process.
There are various types of Escapements
Static or Dead Nests – A robotic arm is normally used to pick up the part, another part being dropped from the linear track immediately after the part is taken.

Side Shuttle – This type of escapement uses pneumatic cylinders to control the release of a part or product. A sensor is used to detect the presence or absence of a part in the escapement and shuttles the part across to present to a gripper of a robot at simultaneously the empty pocket is refilled this ensures an ample supply of parts.

Rotary Table – Rotary tables can be used to accept parts that are indexed to round to the pick positions
Type of Industries that use Bowl Feeders in their assembly lines
Vibratory feeders are used by many industries, including pharmaceutical, automotive, electronic, cosmetic, food, packaging and metalworking as well as Fast-Moving Consumable Goods (FMCG). Other industries such as foundries, construction, pulp and paper, and plastics, not to mention recycling also use this equipment.
Economical Robotic Throughput
In all cases these vibratory feeders are used as they offer a cost-effective alternative to manual labour, thus saving time, and labour costs. When considering what type of parts feeder to select, your industry, the types of materials you are working with, the application and the volume of production must all be considered.
Bowl Feeder Specifications
Bowls are available from 150–1200 mm diameter and are either tooled internally or externally depending on requirements. Bowl Feeders can also be supplied with linear conveyors to consistent, precise orientation and positioning of components. Bowl tops are available in Stainless Steel or Aluminium coated with Polyurethane with other coatings available as required.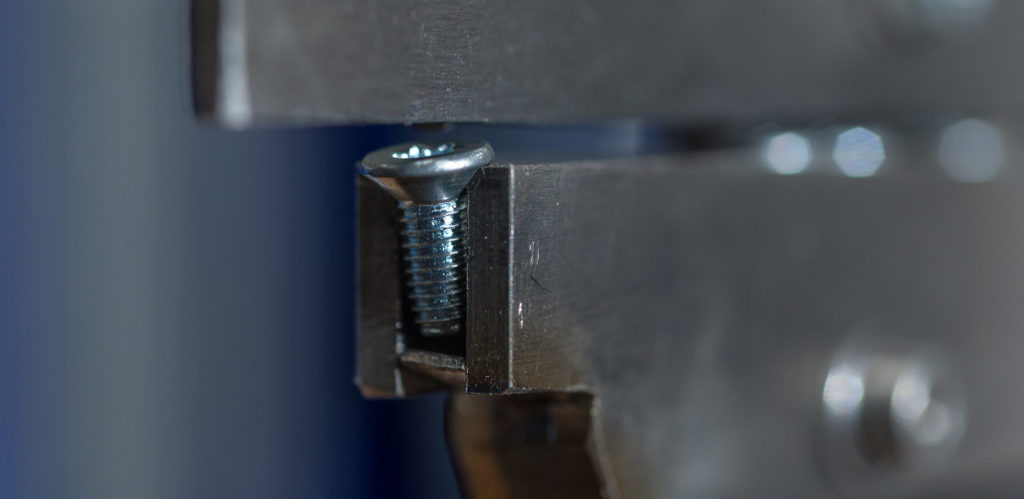 On-site Bowl Feeder service
Sandfield offer on-site support to service and upgrade existing bowls or to specify the design of new bowls. We also offer a relining service or will retool existing bowl feeder.
The range of Vibratory Bowl Feeders products and services provided by Sandfield Engineering includes:
Vibratory Bowl Feeders
Vibratory Linear Feeders
Vibratory Bulk Feed Hoppers
Escapment Design and Manufacture
Conveyors
Stands for bowls, hoppers, conveyors etc
Vibratory Bowl servicing, re-lining, and retooling
Vibratory Bowl Feeder Accessories & Parts
Complete Vibratory Bowl Systems including controls
Vibratory Bowl Feeders are supplied in a variety of finishes, materials, feed rates, dimensions, and power options to meet your specific requirements.
The highest possible level of Customer Service
One of our Unique Selling Points is the time and trouble we take to ensure that your production line, and the bowls and feeding devices are designed in an optimum manner.
This often means visiting your facility and creating drawings and specifications for your consideration, prior to any orders being placed. Such is our dedication to providing the very best customer service.
Complete Range of Services
We provide a complete range of services and equipment associated with bowl feeding components, from a standalone Bowl Feeder to a complete Bowl Feeding system providing supplementary equipment including vibratory linear feeders, vibratory hoppers, belt conveyors, bulk loaders, and controllers.
Stainless Steel tooling is used on all Bowl Feeders and can be internally or externally tooled to suit the components. External tooling can produce much higher feed rates and also increases the storage space in the bowl top for components.
More Information on other types of feeders
Talk to The Experts at Sandfield
Please do not hesitate to contact our team to discuss your Vibratory Bowl Feeder requirement. No matter how unique your part feeding challenge might appear to you now, with more than 20 years of experience, our team will have experienced something similar and can therefore quickly steer you in the right direction.